What people are saying about English PC?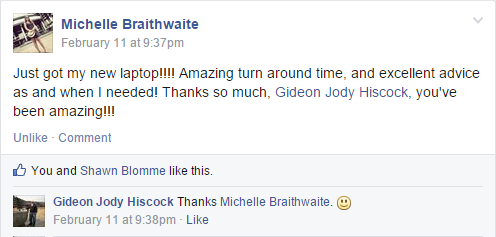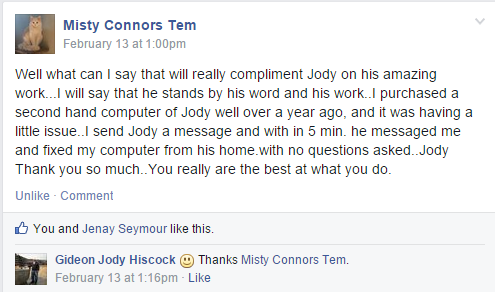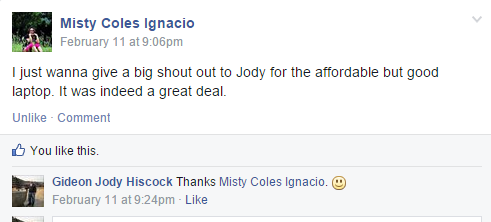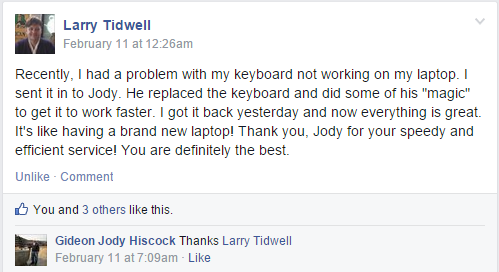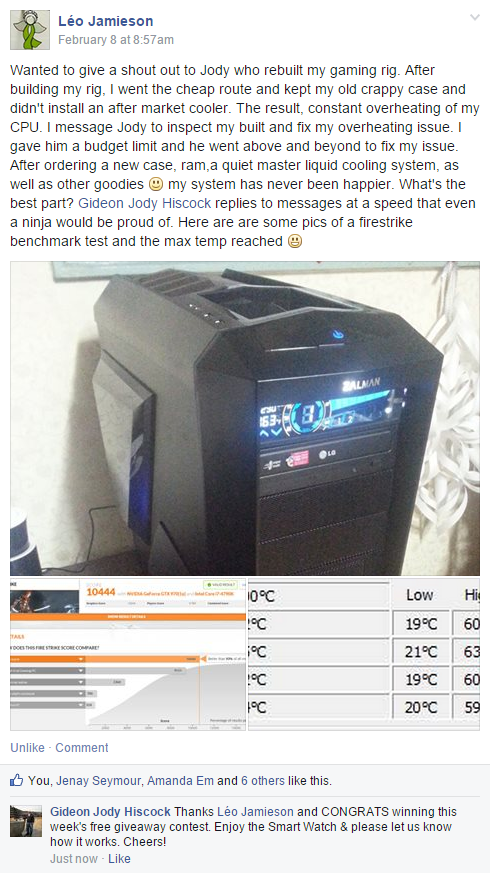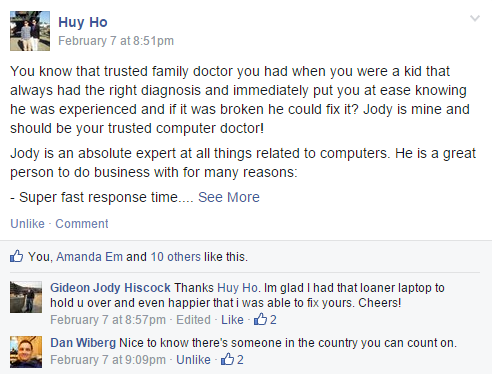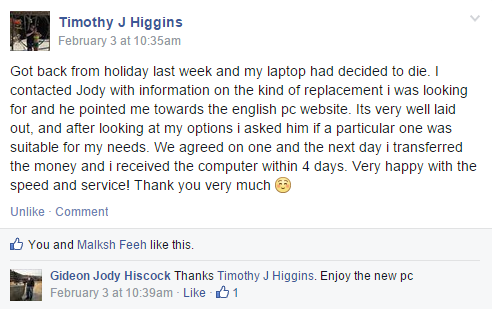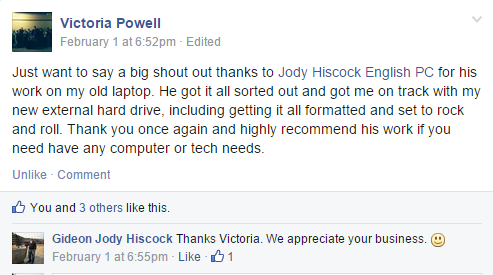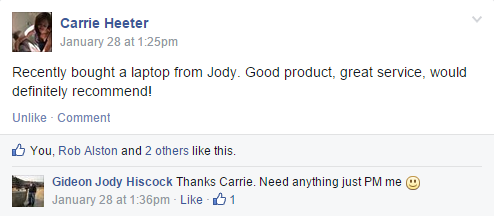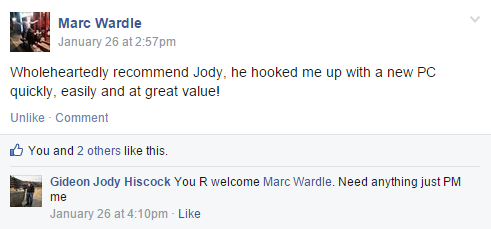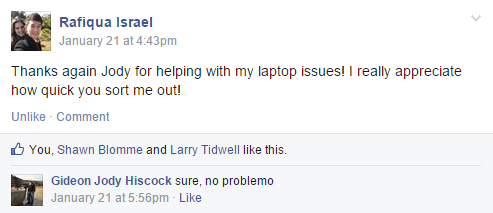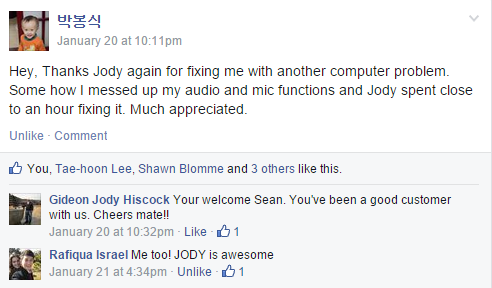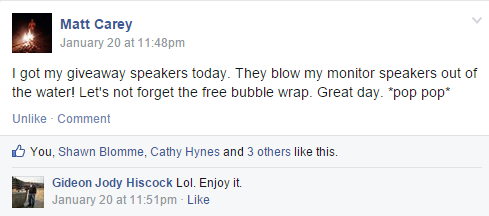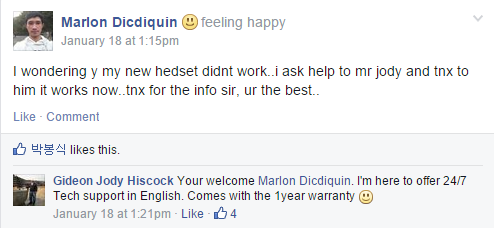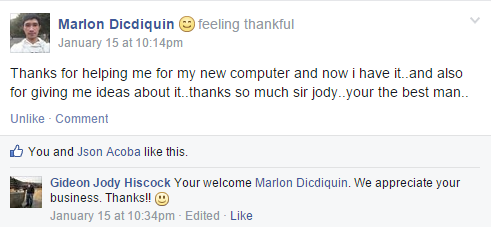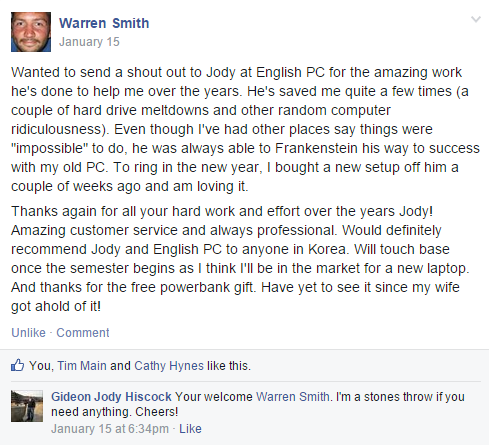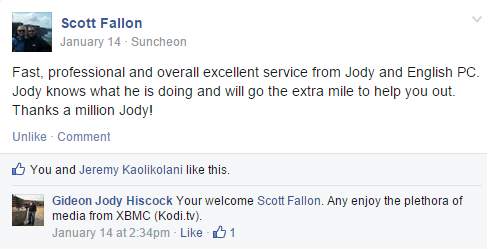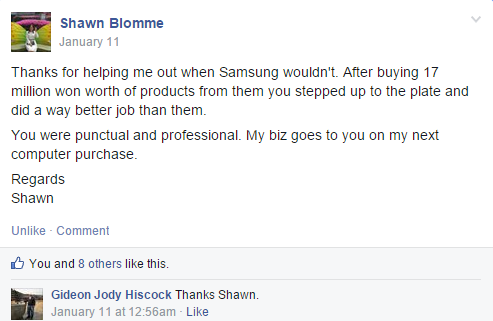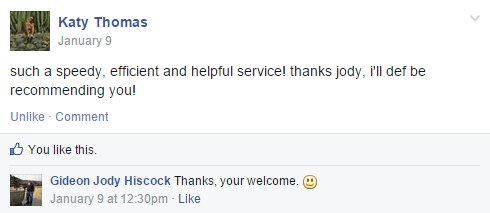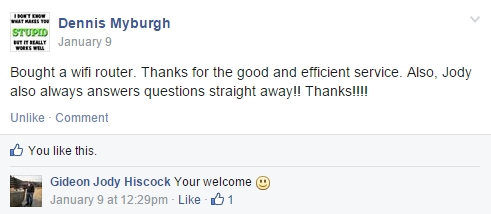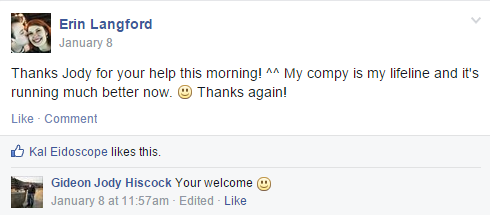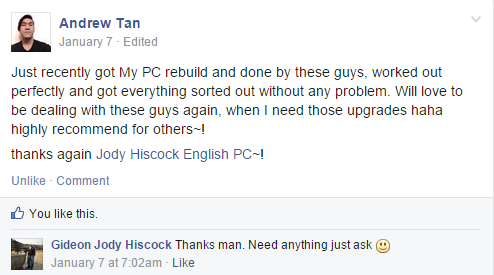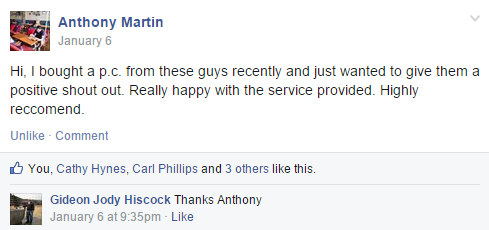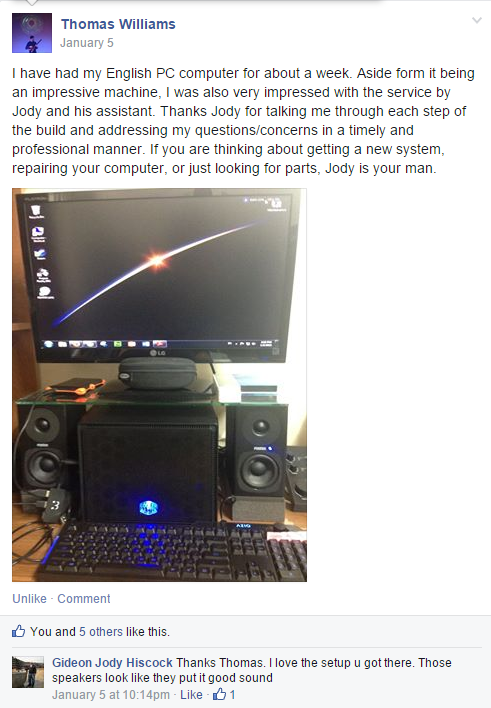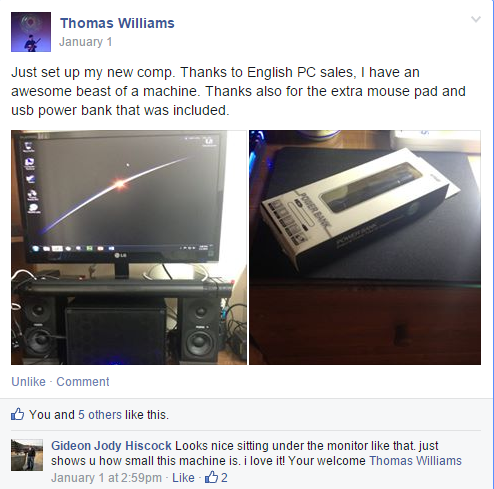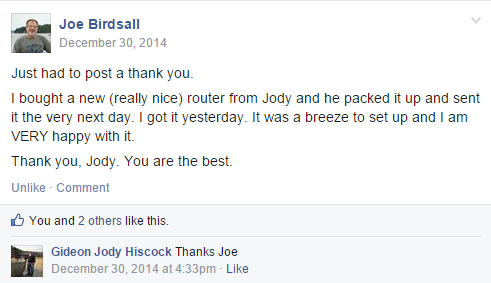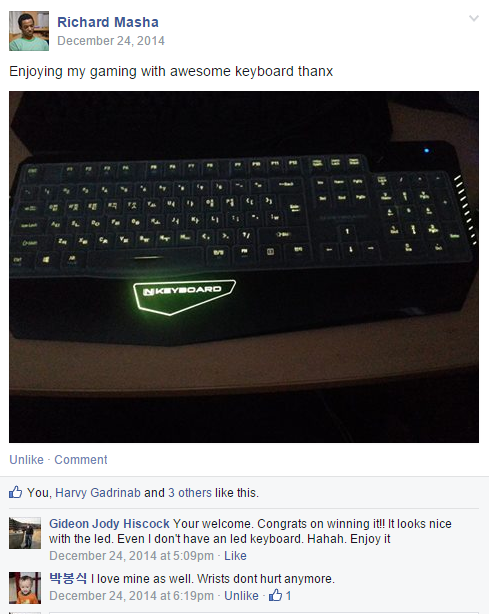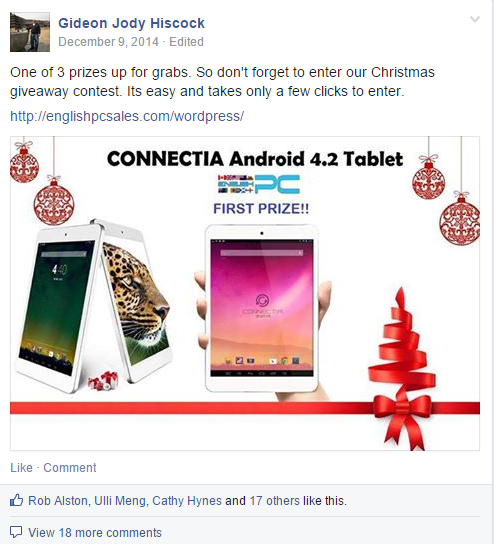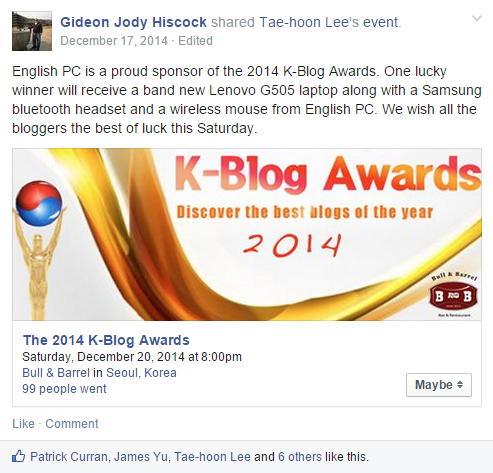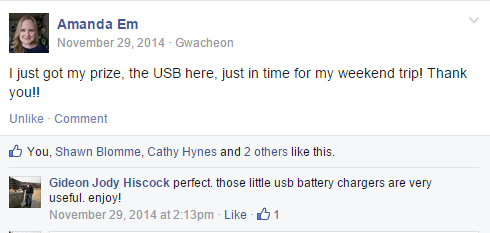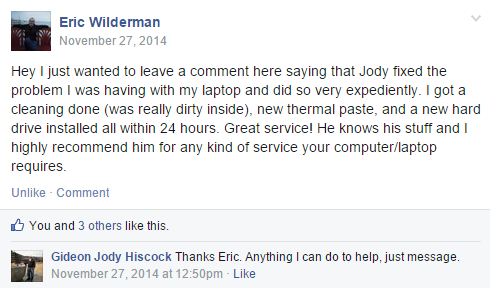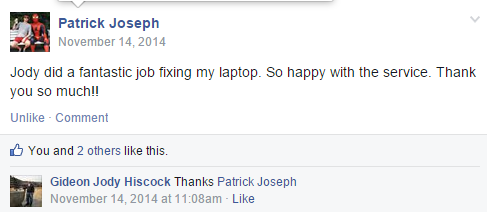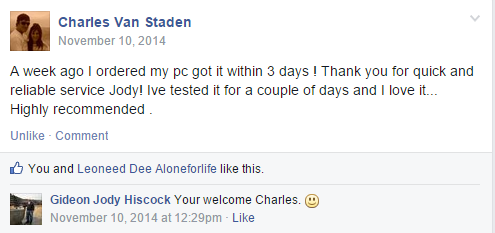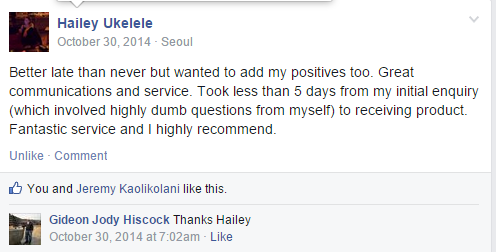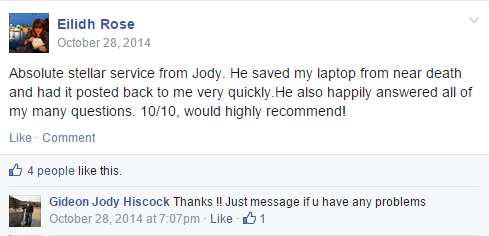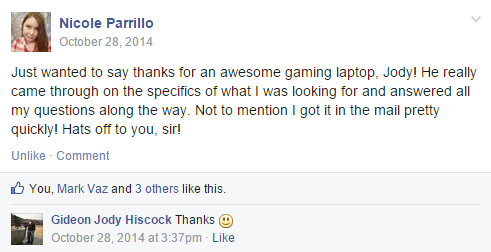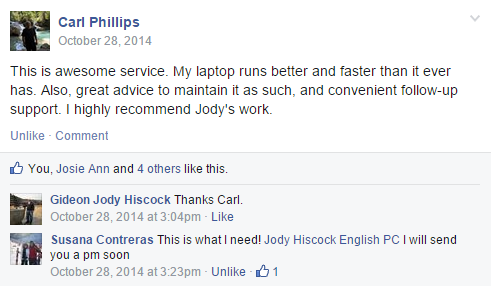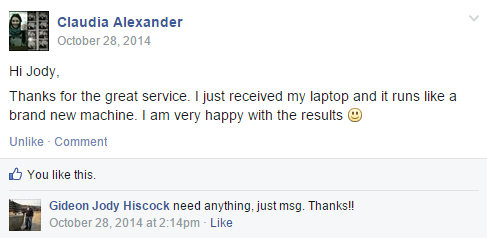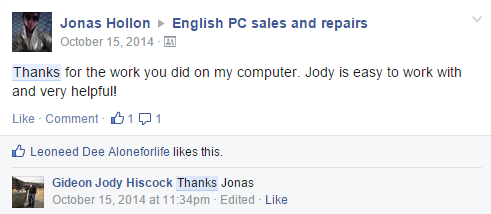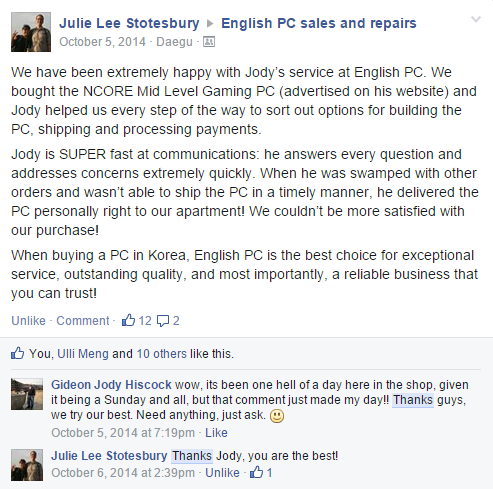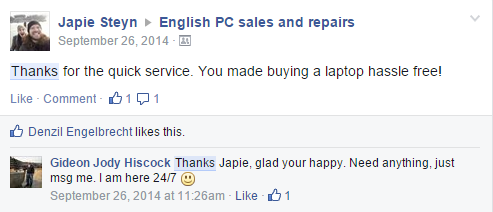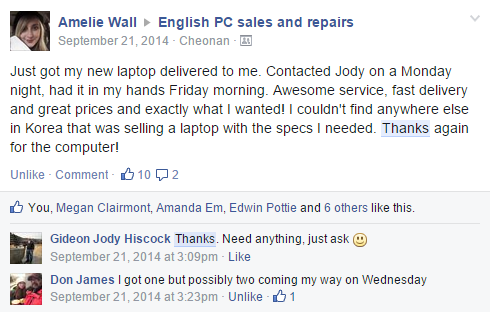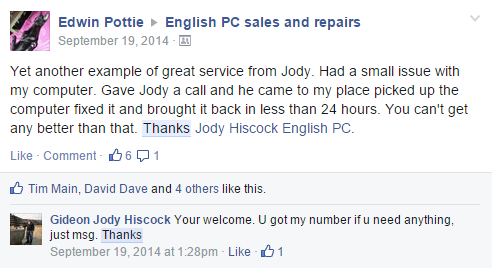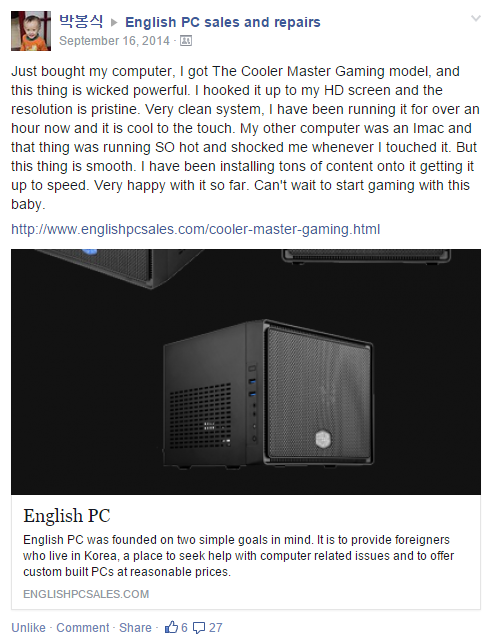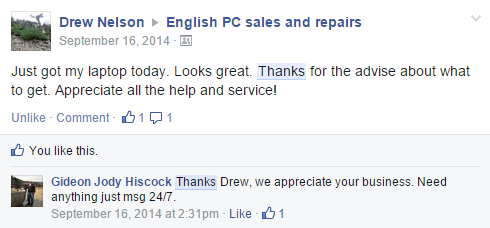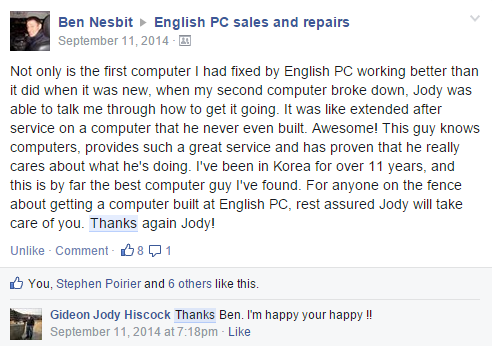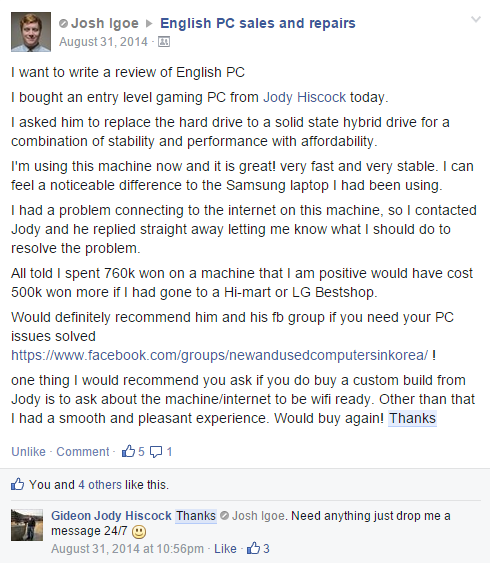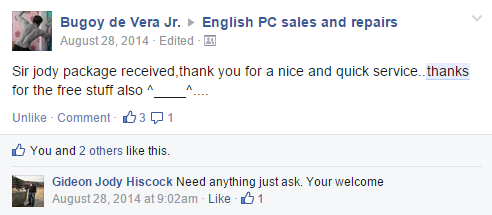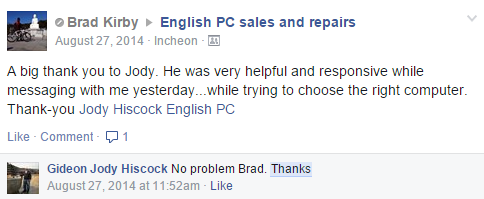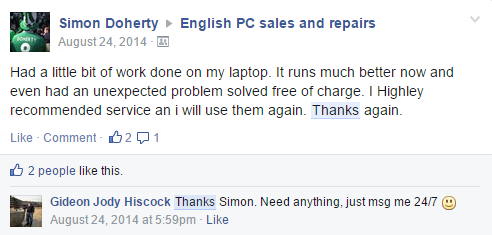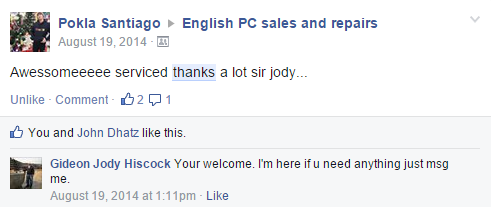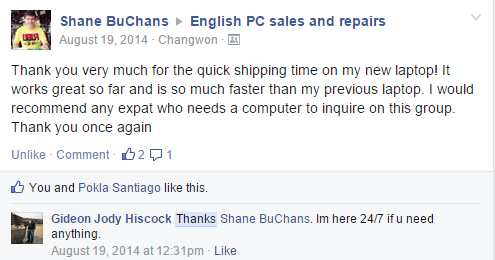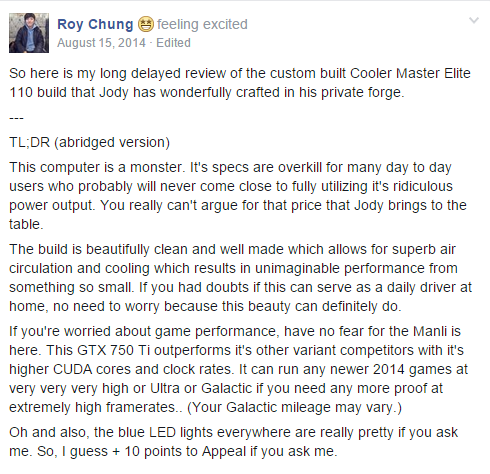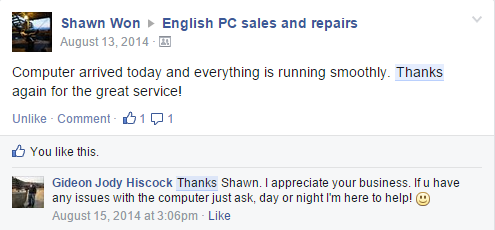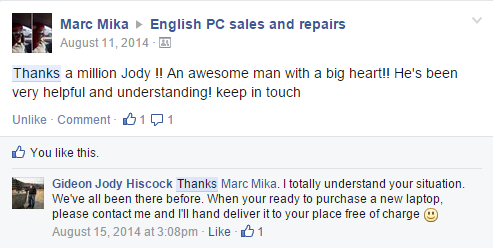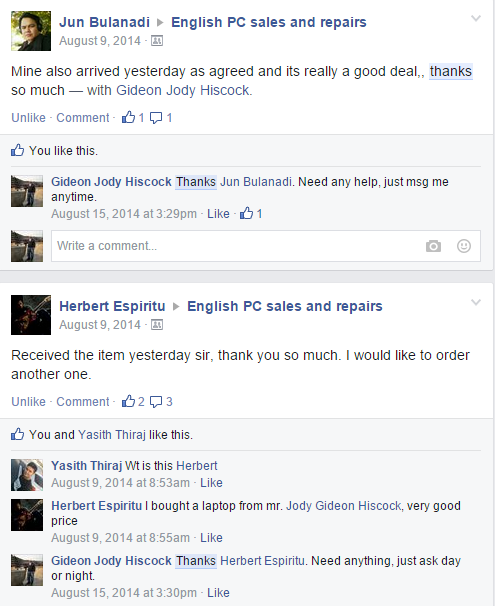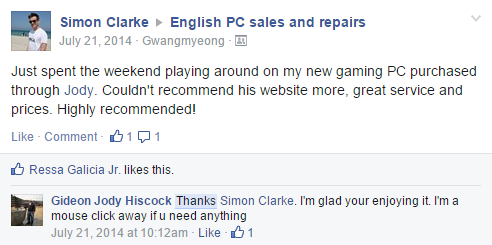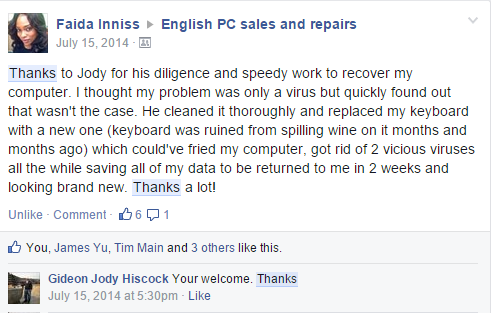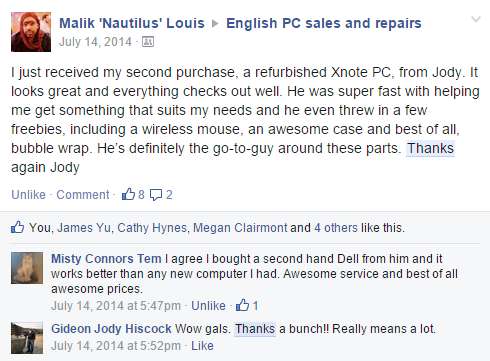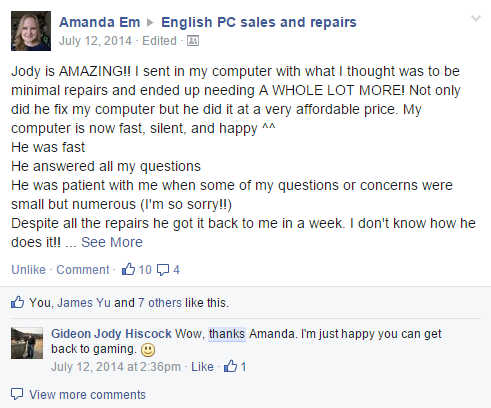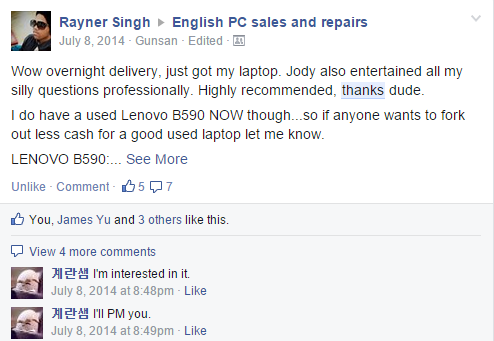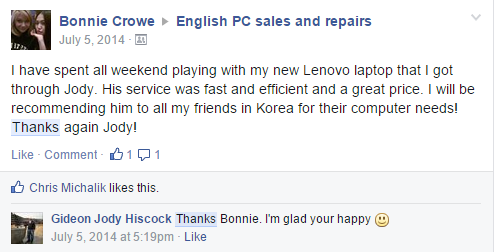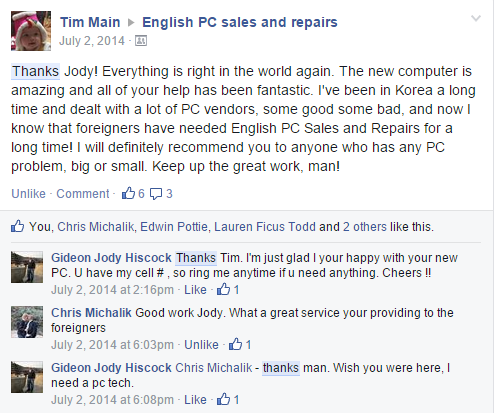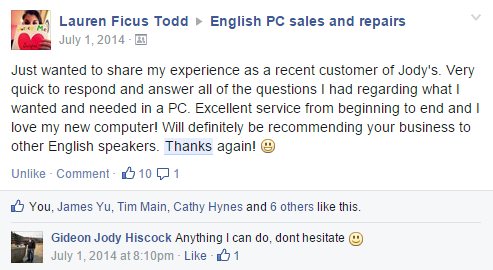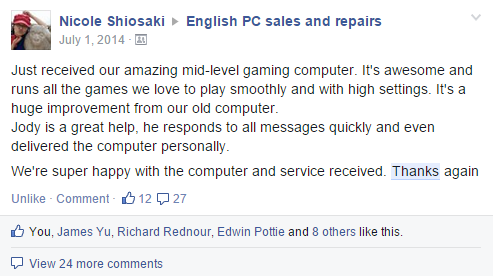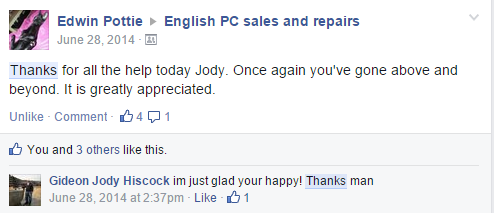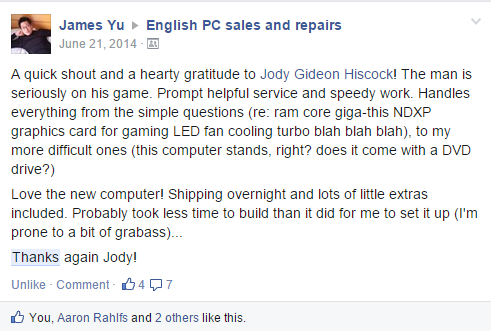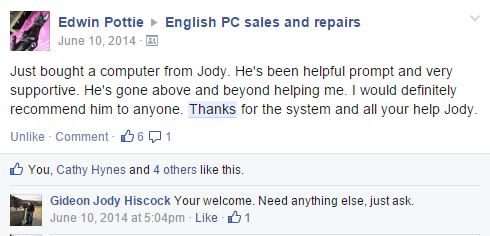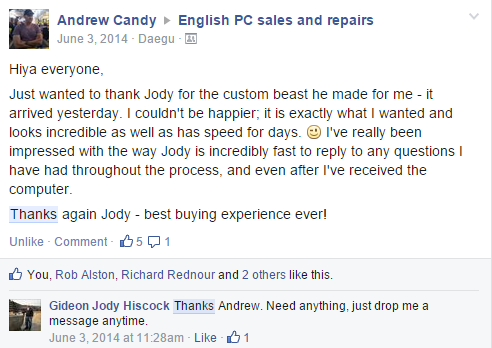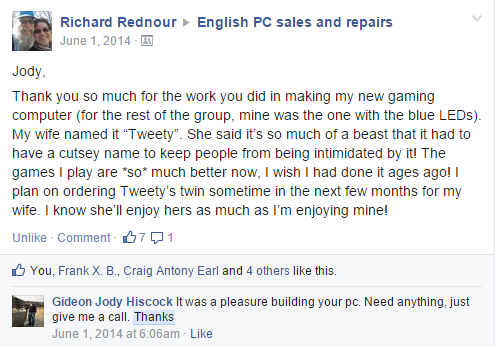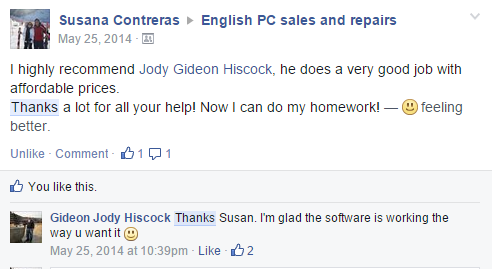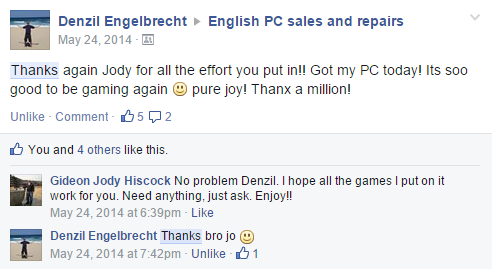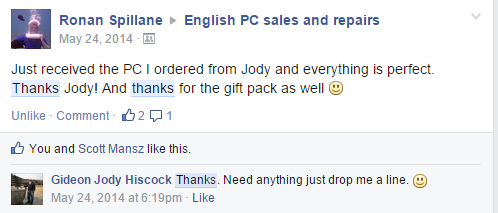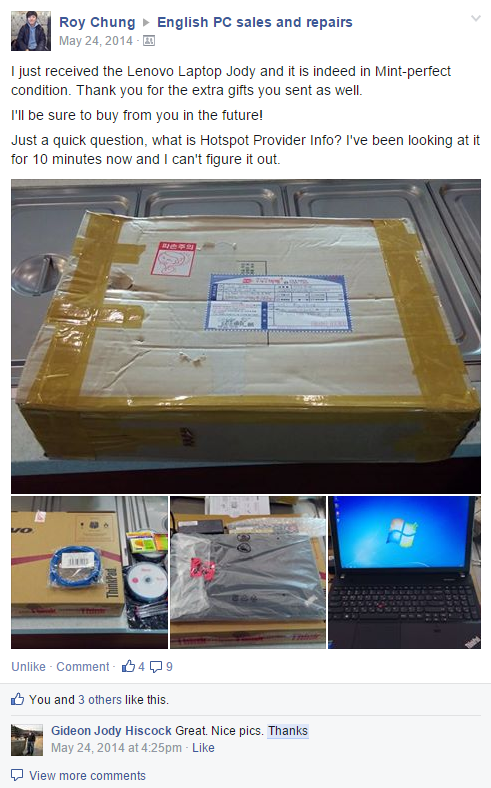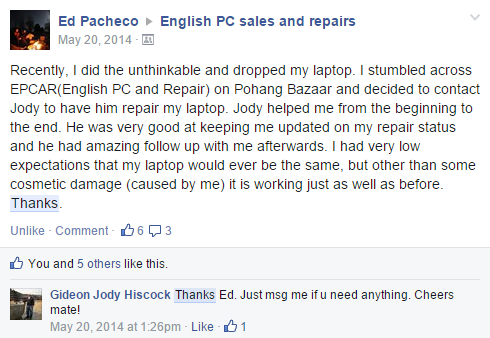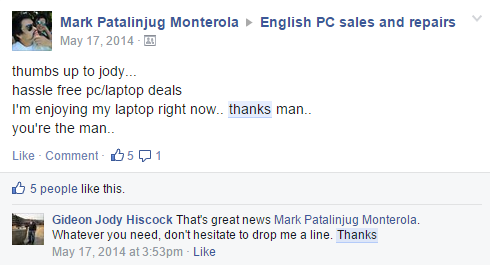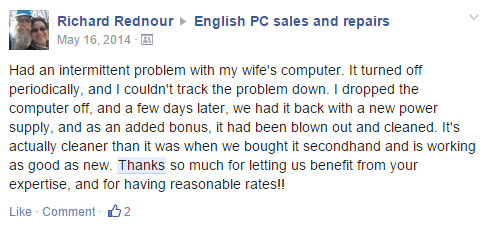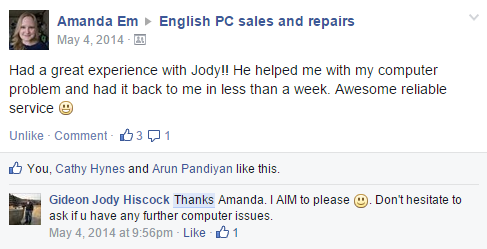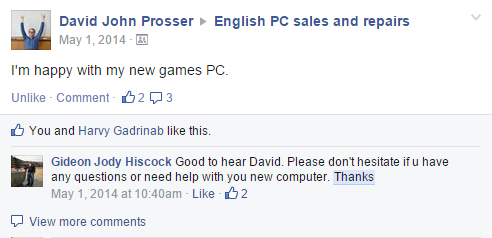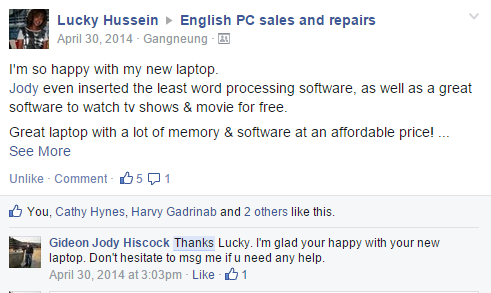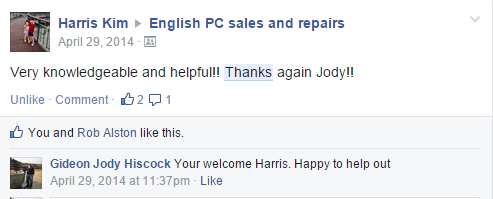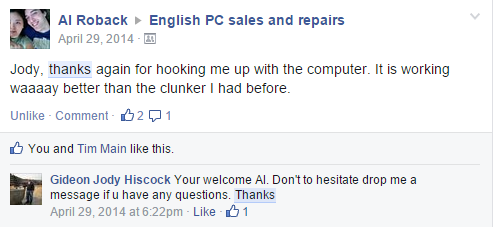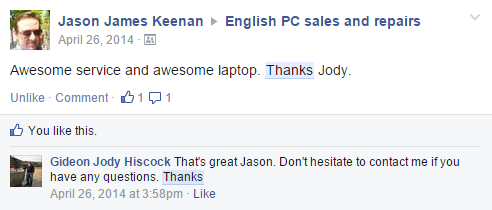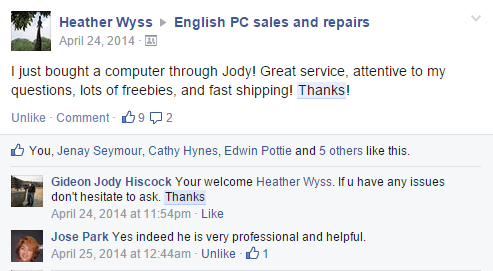 You know that trusted family doctor you had when you were a kid that always had the right diagnosis and immediately put you at ease knowing he was experienced and if it was broken he could fix it? Jody is mine and should be your trusted computer doctor!
Jody is an absolute expert at all things related to computers. He is a great person to do business with for many reasons:
– Super fast response time.
– Kept me up to date throughout the whole process.
– Amazingly fast repair.
– Reasonable price.
– Super nice.
The list goes on. Honestly, I could not feel better taken care of. He will be my go to person from now on for all of my computer needs.
– Huy Ho
Wanted to give a shout out to Jody who rebuilt my gaming rig. After building my rig, I went the cheap route and kept my old crappy case and didn't install an after market cooler. The result, constant overheating of my CPU. I message Jody to inspect my built and fix my overheating issue. I gave him a budget limit and he went above and beyond to fix my issue. After ordering a new case, ram,a quiet master liquid cooling system, as well as other goodies smile emoticon my system has never been happier. What's the best part? Gideon Jody Hiscock replies to messages at a speed that even a ninja would be proud of.
– Léo Jamieson
Thanks for all the help today Jody. Once again you've gone above and beyond. It is greatly appreciated.
– Edwin Pottie
A quick shout and a hearty gratitude to Jody Gideon Hiscock! The man is seriously on his game. Prompt helpful service and speedy work. Handles everything from the simple questions (re: ram core giga-this NDXP graphics card for gaming LED fan cooling turbo blah blah blah), to my more difficult ones (this computer stands, right? does it come with a DVD drive?)
Love the new computer! Shipping overnight and lots of little extras included. Probably took less time to build than it did for me to set it up (I'm prone to a bit of grabass)… Thanks again Jody!
– James Yu
Recently, I had a problem with my keyboard not working on my laptop. I sent it in to Jody. He replaced the keyboard and did some of his "magic" to get it to work faster. I got it back yesterday and now everything is great. It's like having a brand new laptop! Thank you, Jody for your speedy and efficient service! You are definitely the best.
–Larry Tidwell
Thanks again Jody for helping with my laptop issues! I really appreciate how quick you sort me out!
–Rafiqua Israel
Wanted to send a shout out to Jody at English PC for the amazing work he's done to help me over the years. He's saved me quite a few times (a couple of hard drive meltdowns and other random computer ridiculousness). Even though I've had other places say things were "impossible" to do, he was always able to Frankenstein his way to success with my old PC. To ring in the new year, I bought a new setup off him a couple of weeks ago and am loving it.
Thanks again for all your hard work and effort over the years Jody! Amazing customer service and always professional. Would definitely recommend Jody and English PC to anyone in Korea. Will touch base once the semester begins as I think I'll be in the market for a new laptop. And thanks for the free powerbank gift. Have yet to see it since my wife got ahold of it!
–Warren Smith
Its SO good to have my laptop back. Thank you so much for all your help. I will do my best to not give liquids to it ever again.
– Amanda Highsmith
Hey, Thanks Jody again for fixing me with another computer problem. Some how I messed up my audio and mic functions and Jody spent close to an hour fixing it. Much appreciated.
–Sean Synder 박봉식
Just bought a computer from Jody. He's been helpful prompt and very supportive. He's gone above and beyond helping me. I would definitely recommend him to anyone. Thanks for the system and all your help Jody.
– Edwin Pottie
I just wanted to thank jodi for his service. Today I received the laptop i ordered on monday. But the configuration was different…actually i received a model lower than the one i ordered. I message him the same and he promptly replied me. He admitted his mistake and offered me either i return him the model or else he give me more money than the difference of two models. I have dealt with several online shopkeepers…but i find jodi is far better in term of service and replies to customers. Its really nice dealing with him.
– Nitin Chhabra
Wholeheartedly recommend Jody, he hooked me up with a new PC quickly, easily and at great value!
–Marc Wardle
Just want to say a big shout out thanks to Jody Hiscock English PC for his work on my old laptop. He got it all sorted out and got me on track with my new external hard drive, including getting it all formatted and set to rock and roll. Thank you once again and highly recommend his work if you need have any computer or tech needs.
–Victor Powell
Just wanted to thank Jody for the custom beast he made for me – it arrived yesterday. I couldn't be happier; it is exactly what I wanted and looks incredible as well as has speed for days. I've really been impressed with the way Jody is incredibly fast to reply to any questions I have had throughout the process, and even after I've received the computer.
Thanks again Jody – best buying experience ever!
– Andrew Candy
Jody – you are the best. I am pc and electronic stupid. Messaged Jody last week regarding a Nintendo Wii problem I was having. He supplied me with info and Internet links where to get what I was looking for. Got the Nintendo hdmi converter today. I plugged everything in today and it's working. Thanks a lot. Much appreciated!!!!!!!
–Dennis Myburgh
Got back from holiday last week and my laptop had decided to die. I contacted Jody with information on the kind of replacement i was looking for and he pointed me towards the english pc website. Its very well laid out, and after looking at my options i asked him if a particular one was suitable for my needs. We agreed on one and the next day i transferred the money and i received the computer within 4 days. Very happy with the speed and service! Thank you very much
–Timothy J. Higgins
Recently bought a laptop from Jody. Good product, great service, would definitely recommend!
–Carrie Heeter
I just received the Lenovo Laptop Jody and it is indeed in Mint-perfect condition. Thank you for the extra gifts you sent as well.
I'll be sure to buy from you in the future!
– Roy Chung
Thanks for helping me for my new computer and now i have it..and also for giving me ideas about it..thanks so much sir jody..your the best man..
–Marlon Dicdiquin
Jody, Thank you so much for the work you did in making my new gaming computer (for the rest of the group, mine was the one with the blue LEDs). My wife named it "Tweety". She said it's so much of a beast that it had to have a cutsey name to keep people from being intimidated by it! The games I play are *so* much better now, I wish I had done it ages ago! I plan on ordering Tweety's twin sometime in the next few months for my wife. I know she'll enjoy hers as much as I'm enjoying mine!
– Richard Rednour
As a photographer, the things (pictures) that i keep on my external hard drive are irreplaceable! When my old hard drive crapped out on me, i almost lost it because it had all of my photos over the past few years on it.  Jody was able to transfer everything from the crapped out 1TB Hard drive to a new 1TB hard drive that he bought. Life. Saver.
– Nick 'thetruehottie' Holmes
Thanks so much Jody. Fast, reliable and wonderful service. Back to the freedom of the internet with my new laptop. Very, very happy and highly recommended
– Heather Ann Kennedy