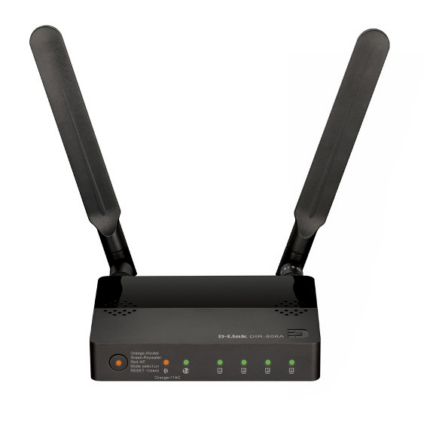 D-Link DIR-806A Wireless router
D-Link DIR-806A Wireless router
Using the DIR-806A device, you are able to quickly create a high-speed wireless network for computers and mobile devices at home or in your office. The router operates in 2.4GHz band, 5GHz band, or both bands simultaneously.
Features:
DUAL BAND: Simultaneous operation in 5GHz & 2.4GHz band, 802.11a/b/g/n/ac compatible. HIGH SPEED: Total wireless connection rate up to 750Mbps.
SECURITY: Multiple firewall functions, several security standards for wireless connection.
Wireless standard: 802.11a/b/g/n/ac, frequency 2.4 / 5-GHz, possibility of simultaneous operation of; Support MIMO: yes; Max. speed of the wireless connection: 733 Mbps;
Protection of information:WEP, WPA, WPA2, 802.1x; Transmitter power:16 dBM;
Options access point/bridge:
Switch: 4xLAN; The speed of the ports: 100 Mbit/s;
Router:yes; FireWall:yes; NAT:yes; DHCP server:yes; Support for Dynamic DNS:yes. Support for VPN pass through:yes;
The number of external antennas: 2 x 5 dBi; External antenna type: removable. Monitoring and configuring. Web-interface: yes;
Warranty
1 year
*FREE Domestic Shipping in Korea only
*Please contact us for international rates
Have a question? Contact Us