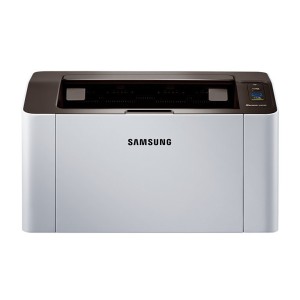 Laser Printer
A teacher's choice!  The Samsung ML-2024 is one of the top laser printers for used in the education sector.  It's a very robust and reliable printer that's not only cost effective but also green for the environment with low power consumption!
Samsung's ML-2024 is a compact, stylish, and lightweight designed printer. It delivers superb black and white laser printing quality. Why complicate things, when you can just KEEP IT SIMPLE with its 'one touch' printing. The 400MHz CPU with 8MB memory processes 18 pages per minute (ppm) of fast printing for a variety of documents and reducing the processing time at work. And with a DPI ratio of 1,200 X 1,200 resolution, the output quality is clean and crisp.
Features:
Fast processing speed of 400MHz CPU with 8MB memory, Clear printing with high resolution, Sharp images, crisp text (ReCP)
Simple and compact design, Simple easy to use 'one touch' printing.
Display Specifications:
– Basic Function Printing:
– 400 MHz processor
– Display 2-LED
– Memory (default) 8 MB
– Interface (default) Hi-speed USB 2.0
– Power consumption 310 W (for printing) / 1.1 W (sleep mode) / 30 W (Standby)
– Maximum noise below 50 dBA (printing) / 26 dBA or less (during standby)
– Product dimensions (W x D x H) 332 x 215 x 178 mm
– Weight 3.97 Kg
– 1 year warranty (Release Date 2014-04-01)
– Rated voltage AC220-240V ~, 50 / 60Hz, 2.5A
Specifications:
Input capacity: (standard tray) 150 sheets, Feeding support media type: (standard tray) Plain paper / thick paper / thin paper / cotton paper / colored paper / printing paper / recycled paper / label paper / cardstock / Bond Paper / Archive Paper / Envelopes
Feeding supported media specifications: (standard tray) A4 / A5 / Letter / Legal / Executive / Folio / Oficio / ISO B5 / JIS B5 / envelope (Monarch, Com10, DL, C5) / Edit (76 x 127 mm – 216 x 356 mm )
Feeding support paper weights: (standard tray) 60 – 163g / ㎡
100-sheet media capacity: (face down)
Expendables
Toner cartridge: (Black) Average 1,000 sheets (ISO / IEC 19752 standard) / (initial purchase of built-in 500-sheet toner cartridge)
Speed: ​​(black) Up to 18 sheets per minute (A4 standard)
First page output time (black) than 8.5 seconds (standard standby mode)
Resolution up to 1,200 x 1,200 dpi, Emulation SPL (Samsung Printer Language), Manual duplex printing support, Supported Operating Systems: Windows 8/7 / Vista / XP / 2000 / 2008R2 / 2008/2003, Mac OS X 10.5 – 10.9, Various Linux
Warranty
1 year
*FREE Domestic Shipping in Korea only
*Please contact us for international rates
Have a question? Contact Us